Here is the recipe for the soup I mentioned in the previous post (thanks Lisa!) The last time I made the soup, I added shredded chicken from a rotisserie chicken (just a little bit) and some white wine to add some depth, but it's delicious even without those additions.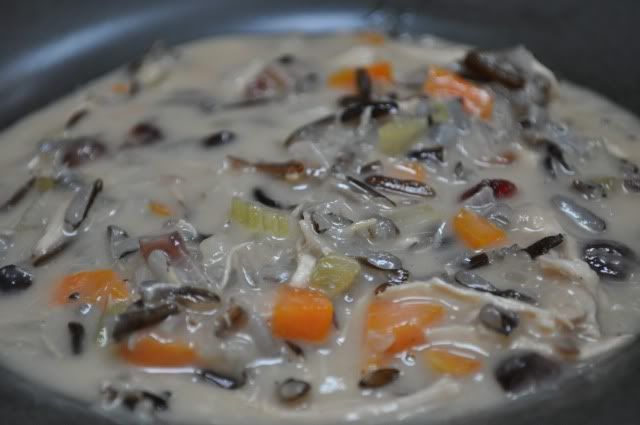 Wild Rice-Sour Cherry Soup
4 Tbsp. unsalted butter
1 or 2 carrots, finely chopped
1 celery stalk, finely chopped
1/2 cup finely chopped onion
3 Tbsp all purpose flour
3 cups chicken stock
1 1/2 cups cooked wild rice
1/2 cup dried sour cherries (or cranberries)
1 cup milk or hald and half
*shredded chicken
*1/3 cup dry white wine
Melt the butter in a heavy bottomed sauce pan over medium heat. Add the carrot, celery and onion; cook, stirring occasionally, until hte carrot is tender, about 8 minutes. Add hte flour and stir until smooth. Gradually add the stock, whisking constantly to prevent lumps. Increase the heat to medium-high and stir until the soup is thickened, about 5 minutes. Stir in the rice and dried sour cherries. Reduce the heat;cover and simmer stirring occasionally, until the cherries are softened and plumped, about 15 minutes. Stir in all the remaining ingredients. Stir occasionally until warmed through. Season with satl and pepper to taste.