For the past 8 years, we've headed to the strawberry patches each spring to pick (and eat) those incredible sun-ripened berries. There is nothing like a fresh, perfectly-ripe strawberry. One of the things I first loved about springtime in Washington was the abundance of berries! We get them all...strawberries in June, followed by raspberries (both golden and red) and blueberries in July, and blackberries in August. The kids also pick wild salmon berries along the trails when we are mountain biking or hiking.
This year, instead of traveling to a strawberry farm, we simply had to cross the yard to our garden to harvest pounds and pounds of luscious, juicy strawberries! I won't lie, it's been heaven!
With an unusually warm winter and cooler than average spring, the rest of the garden and fruit trees are seriously confused and floundering a bit. But the berries exploded. We've canned nearly 30 jars of jam and have almost filled the freezer full of gallon sized bags of frozen strawberries. We can pick and pick and pick and still not finish. We have the ever-bearing strawberries which produce all summer, so this certainly won't be the last strawberry recipe I share, but it might be the best!
I found this recipe in the Edible Seattle Magazine May/June issue. I love that magazine! The instructions are quite detailed, and you could make the biscuits, whip the cream, slice the berries and assemble and it would be fine, but after reading the article which devoted an entire page discussing the way to turn an ordinary shortcake into a memorable one, I decided to follow the recipe exactly and slice, macerate, and smash the berries. The author pointed out that you need lots of juices to make the best shortcake, and after trying it this way, I totally agree. These were heavenly. I made them for breakfast for the kids and their friends who had spent the night. They all licked their bowls clean, surprise surprise.
Jon Rowley's Super Sumptious Old Fashioned Strawberry Shortcake with Drop Biscuits
Biscuits
2 cups all purpose flour (I'm sure you could use whole wheat pastry or spelt)
1 tablespoon sugar
1 tablespoon bakign powder
1/2 teaspoon salt
4 ounces (one stick) butter, chilled
1 cup milk
2 tablespoons cream
Preheat over to 400 degrees. Grease a baking sheet.
Put all the dry ingredients together in a food processor. Pulse. Chop a stick of butter into small cubes. Add them to the flour and pulse till the mixture resembles rough meal. Add the milk and pulse until the dough starts to pull away from the bowl. DO NOT OVERMIX!
Spoon the dough in six equal portions onto the baking sheet. Brush the tops lightly with cream. Bake for 15 minutes, or until golden brown.
Berries
3 pints of ripe strawberries (they need to be juicy!)
1-4 tablespoons of sugar
Hull and slice 1/3 of the strawberries into large, irregular chunks. Cut any small berries in half vertically. Add a tablespoon or two of sugar and let the berries macerate for an hour.
10-15 minutes before you're ready to eat the shortcakes, tear 1/3 of the berries. Hold a small handful of berries in one hand, place your other hand on top and gently apply pressure while twisting over a bowl, this motion pulls the fruit apart into soft pieces without crushing their structure. Add a small amoutn of sugar to taste.
Slice and add the remaining 1/3 of your fresh berries. Combine all berries and add sugar to taste. Reserve some smaller whole berries to garnish.
Whipped Cream
2 cups heavy cream, chilled
2 tablespoons sugar or to taste
Using electric mixture or wire wisk, whip the cream and sugar until it forms soft, but slightly firm peaks.
Assembly
Slice a biscuit in half. Place bottom half on a plate. Top with a moderate pile of berries, a little extra juice and a big spoonful of whipping cream. Cover with the top half of the biscuit, anothe rlayer of berries and c ream in slightly smaller quantities than the first layer. For the final touch, drizzle a tablespoon of juice over the top and garnish with a small, whole strawberry.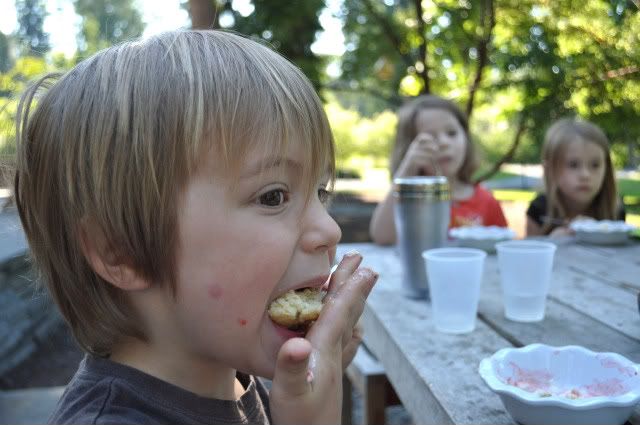 Mmmm, mmmm, good! A big mosquito bite on the cheek and strawberry shortcake in the mouth, that's about as summer as it gets!