I love this recipe because the muffins are only slightly sweet. These taste like muffins should taste, which in my opinion, is
not
like cupcakes. I use strawberries, raspberries or a mixture. And I use more berries than the recipe calls for. We often sprinkle little bits of dark chocolate and berries on the tops and if we're really getting fancy (pretty much all the time), a little bit of turbinado (raw cane sugar) to make them have a bit of a crunch. Sugar sprinkling is a coveted job around here. Rollin did the honors this morning.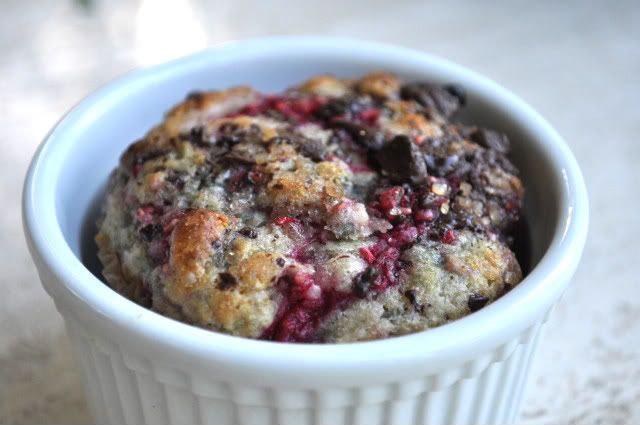 raspberry & chocolate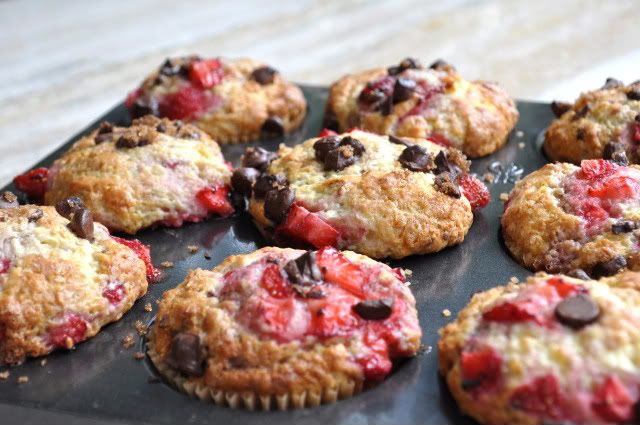 strawberry & chocolate
Muffins à la Framboise, Eclats de Fève de Cacao
- 4 Tbsp (75 g) butter
- 2 C (230 g) all-purpose flour (or whole wheat pastry flour)
- 1/2 C (100 g) sugar
- 2 tsp baking powder
- 1 tsp baking soda
- 1/2 tsp salt
- 1 egg
- 1/2 C (125 ml) plain yogurt
- 1/2 C (125 ml) buttermilk / fermented milk / kefir
- 1 C raspberries (or more!)
- 1/3 cup dark chocolate pieces
Yield : 12 muffins
Preheat the oven to 200°C (400°F) and grease (or line with paper cups or leave alone if they are silicon) a set of muffin tins.
Melt the butter in the microwave or in a small saucepan, and set aside to cool. In a small bowl, combine the cacao nibs and brown sugar. Set aside.
In a medium mixing-bowl, combine dry ingredients (flour, sugar, baking powder, baking soda and salt) and stir to mix. In another medium bowl, whisk together wet ingredients (butter, egg, yogurt and buttermilk). Make a well in the center of the dry ingredients, pour in the wet ingredients, and stir with a spatula until just combined. Do not overmix. The mixture will be lumpy, that's okay. Fold in the berries and dark chocolate bits.
Spoon the batter into the prepared tins and into the oven to bake for 18 to 20 minutes, until risen and golden. Turn out on a rack to cool, and wait for 10-15 minutes before removing from the tins. Serve warm or completely cooled.